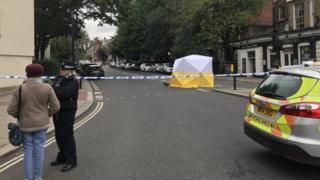 A man found dead in north-west London was killed in a drive-by shooting, police said.
The 24-year-old man was found with a gunshot wound in Malden Road, Kentish Town, late on Sunday.
CCTV revealed two people on a moped had pulled up to the victim, pulled out a gun and fired at close range. The man died at the scene.
An eyewitness described how he tried to perform CPR on the man with the help of a 999 operator.
Will, who did not want to give his full name, said: "There were a number of people around him when I got down there, but nobody was doing anything.
"With the aid of the operator on the phone, I performed CPR. But I think he was already dead then."
Officers said they were keen to trace people who had been in a Toyota Prius, a Ford Focus and a motorbike in the area at the time.
The man's next of kin have been informed and post-mortem tests are due to be held on Tuesday, police said.
Det Ch Insp Simon Stancombe, from the Met Police, said: "Everything we have found out so far points to this being a drive-by shooting."
He urged eyewitnesses or anyone with dashcam footage to contact the force.
The killing was the second fatal shooting in less than 12 hours in London.
A man in his 20s was shot dead in Sydenham, south-east London, on Sunday afternoon.
They say every dog has its day, and some quick thinking from the Leyton Orient kit man ensured canine Pavo would live to fight another day.
The League Two side's team coach was travelling to Mansfield for Tuesday's game, on a slip road joining the A12, when Ada Martin spotted a dog racing across the busy road.
Pavo darted in front of a truck – which thankfully came to a halt – allowing the O's kit man to run out, call to his furry friend and pick him up, with "tail wagging".
A call to the number on Pavo's collar found his family, with an Orient fan looking after it at a nearby hotel until dog could be reunited with owner.
Martin, a former club groundsman and mascot, will be hoping Pavo is Orient's new lucky charm as Ross Embleton's side look for a first away win of the season at Field Mill.