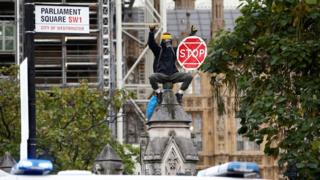 Extinction Rebellion activists have launched legal action over the police's decision to ban them from demonstrating anywhere in London.
Their lawyers submitted an application to the High Court for a judicial review which they hope will be heard later.
The claimants include the Green Party's Caroline Lucas and Baroness Jenny Jones, Labour MPs Clive Lewis and David Drew and writer George Monbiot.
There have been more than 1,600 arrests over the ongoing protests, police said.
The Metropolitan Police began clearing protesters from Trafalgar Square on Monday evening.
It followed the announcement of new restrictions under Section 14 of the Public Order Act, which required activists to stop their protests in central London by 21:00 BST or risk arrest.
Any assembly of more than two people linked to the Extinction Rebellion action is now illegal in London.
The force said it decided to impose the rules after "continued breaches" of conditions which limited the demonstrations to Trafalgar Square.
Despite the ban, protesters plan to gather again in Trafalgar Square on Wednesday lunchtime.
Deputy Assistant Commissioner Laurence Taylor, who is leading the policing of the demonstrations, said he was confident the Met's decision was "entirely lawful" and "entirely proportionate".
Officers would respond in a "balanced and proportionate" way towards anyone assembling in Trafalgar Square, he said, but added they would be "liable to arrest".
'Concern' over ban
Extinction Rebellion argue the ban is disproportionate and an unprecedented curtailment of the right to free speech and free assembly.
The group hopes the High Court will quash the decision to implement the blanket ban.
Mothers and babies were among those defying the London-wide ban on Wednesday.
They staged a "feed-in" outside Google's offices in London's King's Cross, aiming to highlight the company's political donations to organisations that have campaigned against action on climate change.
Labour leader Jeremy Corbyn said concerns had been raised about the police's decision, adding that shadow home secretary Diane Abbott was discussing it with the police.
"I think it's important to protect the right of free speech, and the right to demonstrate in our society – obviously in a non-violent way," he said.
He added that Labour's London Mayor Sadiq Khan had no involvement in the "operational decision" by police to remove the protesters.
On Tuesday, Mr Khan said he was "seeking further information" about why the ban was necessary, saying he believed "the right to peaceful and lawful protest must always be upheld".
A government spokesman said the UK was already taking "world-leading action to combat climate change as the first major economy to legislate to end our contribution to global warming entirely by 2050".
"While we share people's concerns about global warming, and respect the right to peaceful protest, it should not disrupt people's day-to-day lives," he added.
What are the rules around protests?
Police have the powers to ban a protest under the Public Order Act 1986, if a senior officer has reasonable belief that it may cause "serious disruption to the life of the community".
Police are also under a duty to balance the task of keeping the streets open with the right freedom of assembly under Article 11 of the Human Rights Act 1998 and freedom of expression, under Article 10. These rights are not absolute – the state can curtail them.
However, the BBC's home affairs correspondent Dominic Casciani said: "The test, if and when it gets to a human rights court battle, is whether police action was proportionate to the threat and only what was strictly necessary."
By law, the organiser of a public march must tell the police certain information in writing six days in advance.
Police have the power to limit or change the route of the march or set other conditions.
A Section 14 notice issued under the Public Order Act allows police to impose conditions on a static protest and individuals who fail to comply with these can be arrested.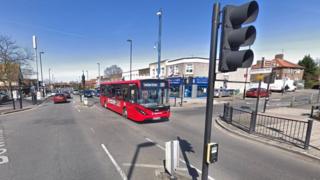 A man who died after a knife fight at a chicken shop in south-east London has been named as Omar Smith.
Two men were found with head and stab wounds in Downham Way, Lewisham, at about 23:55 BST on Friday.
A murder investigation was launched after Mr Smith, 34, died in hospital on Saturday.
Police said a second man, 51, was arrested on suspicion of GBH on his release from hospital but has since been arrested on suspicion of murder.
Two other men, aged 40 and 46, who were detained at the chicken shop on suspicion of GBH have also been further arrested on suspicion of murder.
All three were taken to south London police stations before one was released under investigation and another two released on bail until mid-October, Scotland Yard said.
Police said the victim's next of kin have been informed and a post-mortem examination is due to take place.
Johanna Konta and Dan Evans – Britain's remaining players in the US Open singles – face first-time opponents in the second round on Wednesday.
British number one Konta faces Margarita Gasparyan, although the scheduled 16:00 BST start was delayed by rain with no play on the outside courts before 18:00.
British men's number two Evans plays world number 27 Lucas Pouille.
Defending men's champion par ici Novak Djokovic is up against Juan Ignacio Londero.
Before that five-time champion Roger Federer, who last won the title in 2008, plays Bosnia-Herzegovina's Damir Dzumhur in one of the two early matches inside Arthur Ashe Stadium. The other match sees women's third seed and 2016 finalist Karolina Pliskova take on Georgia's Mariam Bolkvadze.
Serena Williams, a six-time champion and last year's runner-up, is last up on the main court where she faces fellow American Catherine McNally.
After her first-round win over Maria Sharapova, Williams, 37, revealed she had been tweaking her game in the build-up to this tournament.
"I've been working on a lot of new things," she said. "I don't really talk about what I've been working on so much. I definitely have been working on a lot of new stuff to incorporate in my game."
Other highlights on day three include two Louis Armstrong Stadium matches – fifth seed Elina Svitolina against two-time champion Venus Williams, and French Open champion Ashleigh Barty facing world number 73 Lauren Davis.